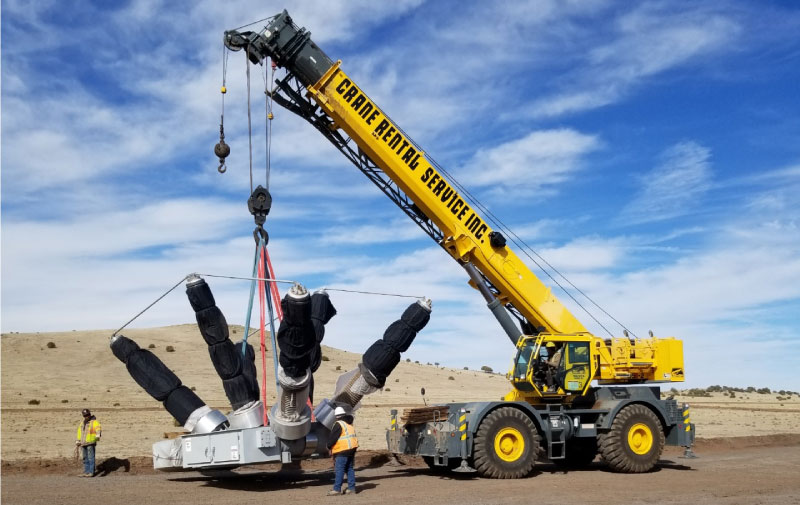 17 Jun

Energy Erectors meets schedule for wind-farm project despite the unexpected

"This was a very remote site to build a switchyard," said Jon Koury, project manager for Energy Erectors Inc. "Despite delays accessing it and a growing scope of work, we finished the necessary elements of the switchyard and substation in time for the utility to energize it during a planned outage."

According to Koury, if Energy Erectors had missed the window for the planned outage, the utility would've had to wait until fall 2021 to energize the project, which he says would've cost the utility millions of dollars.

The project Koury and Energy Erectors tackled was constructing a 345-kilovolt switchyard and substation in a remote section of the Southwest; once completed, the units would take power from a wind farm and send it via two transmission lines to a regional utility and its customers. The 18,000-square-foot substation steps up the 34.5 kV power from the wind farm to 345 kilovolts. The two 345-kV transmission lines run through the 281,000-square-foot switchyard.

"Construction began around Thanksgiving 2020," added Koury. "We were to begin work October 15, but the contractor was delayed in building the access road between the highway and job site. Our customer had to have the project energized by the spring for a planned outage."

The next challenge thrown at the team was a growth in the project's scope. Quantities shown in the issued-for-construction drawings increased across the board, adding an estimated 40 percent in man-hours compared to the bid quantities. To compensate for the delay and growth in scope, Koury says he increased the size of his crew and split them into two teams working 10-hour, night- and day-shifts seven days per week.

Energy Erectors also added an additional subcontractor to the project to mitigate delays caused by very rocky soil, which slowed down the installation of foundations and other below-grade work. A final challenge to hurdle was obtaining concrete. Koury determined early on that the closest batch plant was one hour and 15 minutes from the job site. By gaining permission to alter the composition of the concrete mix, Koury ensured the added travel time wouldn't affect the integrity of the foundations the crews poured. Once the team solved the drive-time challenge, they learned the batch plant didn't have enough trucks to keep a steady supply coming to the job site. So Koury and his team worked their phones to get help from other trucking companies.

"Despite all the challenges, we completed the vast majority of the job in May," said Koury. "The last outstanding item is the perimeter fencing, almost like a wall really, which should finish by August. But our utility customer was able to energize everything as planned."

Koury considers the project a success because his crews really did their best in several ways to accommodate the customer's finish date.